Kicking Goals for Grassroots Football
Football is Australia's most popular sport with a growing number of children signing up each year to join local soccer clubs, dreams of their sporting heroes never far away. It is that feeling of community, drive for success and family that makes football a natural fit for equipment hire company, Kennards Hire.
Kennards community support
Kennards Hire has been supporting Aussie communities for over 70 years and is committed to being an active and contributing member of not only local areas for each branch but the wider fabric of society. This commitment is evident in its contribution to Australian sports teams from the ground up, particularly with regards to their support of Sydney Football Club.
Recently, Kennards Hire collaborated with Sydney FC to support not one but two events to engage and encourage local children as they grow through the sport. The annual Kennards Kids day saw kids between the ages of 6-10 years take part in a free afternoon to learn new football skills and meet some of their favourite players.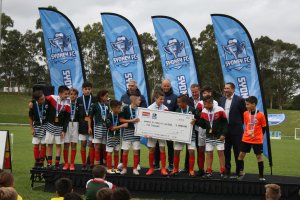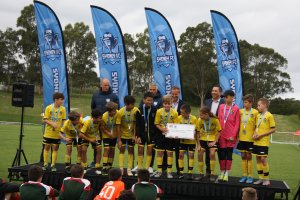 Later in the same week, the U12 Sydney FC Cup took place, bringing together elite players from selected football clubs across NSW to play for the inaugural Cup. Kennards Hire provided prizes for the winning teams and talent scouts attended the event to ensure it is a great opportunity for these young players to continue their sporting careers.
This grassroots support follows on from its 2020 commitment when Kennards Hire extended its initial three-year support of the Sky Blues for a further four years, becoming the club's longest serving premium partner. In the previous year, the equipment hire icon also announced its partnership of the Sydney FC W-League team.
"From the annual Kennards Kids Day, through to our support of both the Sydney FC A-League and W-League, and the extremely talented Sydney FC Cup players, it is a pleasure to be part of such an inclusive, sporting community," Bill Whitehouse, Kennards Hire chief executive officer said.
"I want to share my congratulations with Southern Districts Football Association Red for taking home first place and $5,000 at the Sydney FC Cup, Spirit FC for securing $1,500 for their club and of course, Beau Cameron from Blacktown Spartans FC for receiving the 'Golden Boot' Award. An incredible achievement and one Kennards Hire are delighted to support.
"Football is a growing and inclusive sport for all ages. As a family-owned business, we value the contribution football makes in our local communities and are proud to support Sydney FC at all levels of the game."
Sydney FC are naturally delighted with their strong relationship with Kennards Hire.
"Kennards Hire have been fabulous supporters of Australian football through their relationship with Sydney FC," Danny Townsend, Sydney FC chief executive officer said.
"They understand how important football is in building local communities by engaging families young and old.
"They have been involved in all aspects of the game from their grassroots support of Kennards Kids Day and the Sydney FC Cup, right through to their partnership with our professional A-League and W-League squads.
"Their work with Sydney FC has been crucial to the growth and development of our many community engagement projects and I look forward to it continuing in the years ahead."
To find out more about Kennards community projects visit: www.kennards.com.au