Kennards Hire Celebrates 75 Years of Making the Job Easy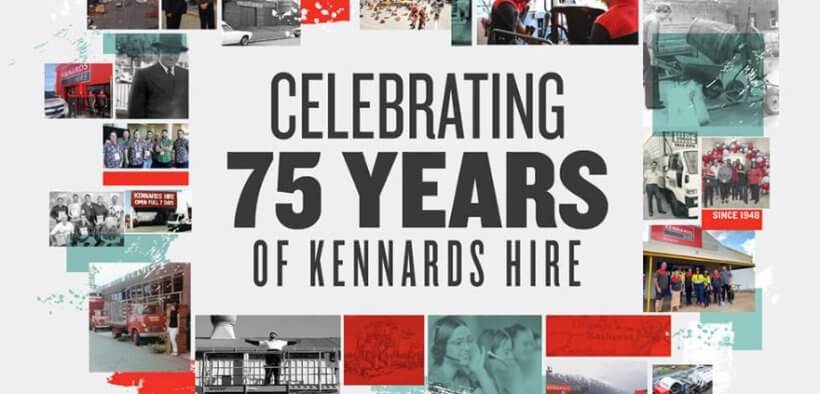 Kennards Hire has reached a significant milestone this month, with April officially marking 75 years in business.
The family-owned and operated company commenced trading in Bathurst in April 1948, when company founder, Walter 'Wally' Kennard, hired a Lightburn concrete mixer to the company's very first customer with the now iconic phrase, "I won't lend it to you, but I'll hire it to you".  Today, the business has more than 1,800 employees and almost 200 branches across Australia and New Zealand.
Kennards Hire CEO, Bill Whitehouse paid tribute to the people and businesses that have helped make the company the success it is today.
"We are incredibly proud to celebrate our 75th anniversary this year. This milestone is a testament to the hard work and dedication of our people, past and present, and to the trust that our customers have placed in us over the years.
"You don't last in business for as long as Kennards Hire has been around without developing a special and long-term rapport with your customers, suppliers and people alike," Bill said.
"The industry we operate in has changed significantly over the years, but for Kennards Hire, the one constant is how we live and breathe our values every day – we're one family; we're fair dinkum in what we say and do; we want every customer to be a raving fan; and we take the hire industry higher.  I'm so proud of what we've collectively achieved and I'm excited to see what the next chapter holds."
Kennards Hire has planned a series of celebratory events across Australia and New Zealand involving customers, suppliers, staff and community partners, with Kennards Hire non-executive director, Rory Kennard delighted to be celebrating the milestone year with so many people and companies who have been with Kennards Hire for the long-term.
"This is a true family owned and operated business that has stood the test of time and it's fantastic to reach 75 years in business and still be going strong," Rory said.
"My family recognise how far the business has come since 1948. Through the challenges and the good times, we're so proud to have had great people working with us across the decades – some of who are still involved in the business today.  That tells you we're doing something right and I'm thankful to them for their contribution to our business and to all our customers who continue to choose Kennards Hire to make their jobs easy, no matter the size."