HRIA calls for help to improve gender diversity
Now in its second year, the Women in Hire mentoring program has successfully been rolled out through the HRIA's national network. Helping promote diversity in the rental sector.
Hundreds of women make up the hire industry in Australia, holding a variety of positions from mechanics to CEOs. To help empower women and build their voice, the HRIA created the Women in Hire program. The group provides networking, mentorship and educational opportunities with the goal of supporting women across the country. Encouraging gender diversity is a highly effective way of tackling growing skills shortages.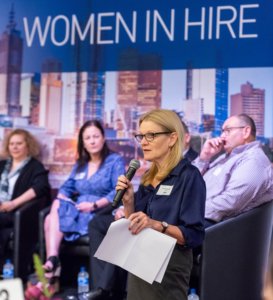 Applicants needed from ACT
Two years on, the 2019 Women in Hire Mentoring Program has now launched nationwide. The program has more than doubled in size from the first pilot program. All states and territories are represented apart from the ACT. We challenge Canberra to get involved! Thank you to all our fabulous Mentors and Mentees for their enthusiasm and commitment to this important program.
The Women in Hire mentoring program is only available to members of the HRIA. For more information contact Dee DeLaurier on 02 9998 2203 or dee@hireandrental.com.au 
For more information from program mentees, visit the HRIA YouTube channel.