Learning how to go from "Mate to Manager"
HRIA members are taking advantage of a practical hands-on training program that is helping team managers navigate the transition from mate to manager.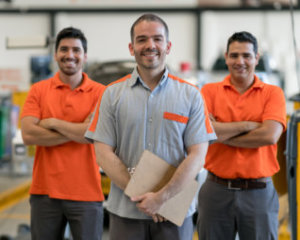 The mate2manager program was developed by the HRIA's partner, Strategic Alignment Training (SAT) in response to members who said "It's so hard to manage a team when I was once part of that same team".
SAT MD Aileen Hiskins said "stepping up to leadership for the first time can be a challenge; especially when leading former peers. This program positions you to do it more effectively". The Mate2Manager program can help develop the skills to:
Teach not tell.
Have a difficult conversation.
Provide great feedback and address performance issues.
Set goals and build a high performing, resilient team.
The mate2Manager program has eight modules. Each module can be taken individually to match the need of the leader or as a complete program. The modules are 4 hours long and include face to face workshops, practical activities, as well as real life examples. The first module ''Managing your Mates' looks at ways to set boundaries around friendships and stepping up the mindset of leadership. Real scenarios are discussed and shared. These discussions help to normalise the change. They also give participants tools that help them determine how they can manage relationships whilst separating themselves from their mates. Aileen said: "Takeaways from this module include a tip sheet on making the transition from 'I" to "We"; how to move from one of the team to the person in charge and how to behave appropriately.
Module 2 of the program introduces a DiSC behavioural profile, a tool which identifies the blend of four styles of behaviour that people naturally exhibit. The technique uses individual self-assessment data to help participants understand themselves better and how to work more effectively in line with theirs and their teams' DiSC style, which may be different to their own. "Learning your leadership style helps you understand yourself better and how to adapt these behaviour preferences to lead the people in the team" said Aileen.
The mate2Manager program is designed for the hire industry but can be further tailored to individual companies. The program has been picked up and used effectively by members including Harry the hirer and South Coast Party Hire, while segments of the program have been successfully incorporated into the Women in Hire Program.
Harry the hirer was the first to undertake the program in August 2018, at its Brooklyn operation. Two Harrys groups participated with 12 in each group. "Harry the hirer" chose five modules, which were run over 4 half days. The feedback from Harrys has been positive, "their managers are handling things on the spot, and it has also helped reduce any bias towards seasonal workers" (learning about unconscious bias is part of the program). Harry's challenge was to get managers on site to performance manage in real time, rather than either letting things go or escalating everything.
The mate2manager program can be delivered in house, or with participants from other member organisations who are in the same locale. "The benefit of running an in-house program is that it is catered directly to the scenarios within your organisation. The benefit of the mixed group is the opportunity to network and share experiences with industry peers in a non-competitive way. Aileen said: "Coates Hire recognise the benefit of this peer networking opportunity and have offered their facilities to host the mate2manager programs nationally. Queensland Forklifts has also offered to host a session at their Luscombe site in Queensland. "There are lots of small businesses in the hire industry who may not find it effective to run a program for just one manager. Using other facilities allows us to run a program with a mix of managers from different companies who then can network while learning"
The program is available in each state at a cost is $350 plus GST pp per module. For more information, contact Steph on 0488777278 or email steph@sa-training.com.au