Aquajet partnership with TRHC-Metco offers hydrodemolition products throughout Australia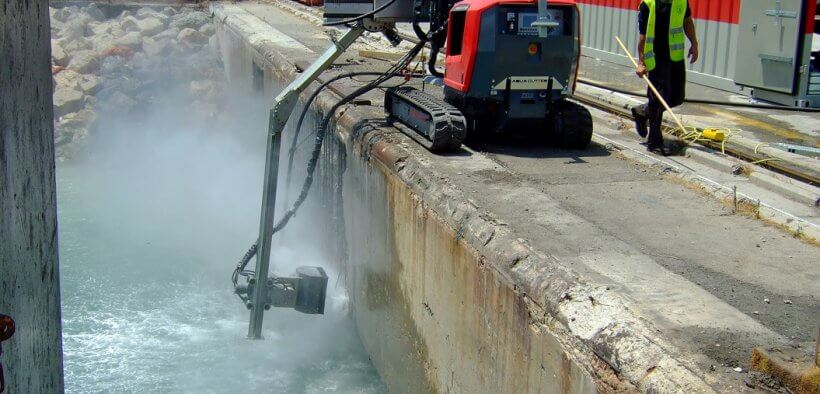 Acid rain, road salt and normal wear and tear wreak havoc on concrete over time. Because new construction isn't always practical, contractors typically rely on processes to remove deteriorated concrete and create a suitable surface to which new concrete will easily adhere.
Traditional methods of removing old concrete require hours of manual labor using handheld water jetting equipment or handheld pneumatic tools. To reduce injuries and increase efficiency, contractors are increasingly turning to Hydrodemolition to handle these concrete rehabilitation jobs.
Aquajet, which was acquired by Brokk AB in 2016, is known as the industry leader in Hydrodemolition machines and solutions, both in terms of quality and volume.
Hydrodemolition uses high-pressure water jets as powerful as 40,000 psi manipulated by an automated robot to remove layers of deteriorated and damaged concrete. The high-pressure water exceeds the strength of the concrete to widen existing pores and microcracks, breaking it apart in a controlled manner.
Five key advantages of Hydrodemolition are:
Superior bonding – Hydrodemolition, on the other hand, leaves a rough, irregular surface after removing the initial layer of concrete. This "craggy" profile is proven to provide better bonding strength. independent pull-off tests have shown that the bonding strength from Hydrodemolition robots is much higher than what's achieved with a jackhammer or mechanical method.
Extended structure lifespan – Although Hydrodemolition's high-powered water jets are devastating to concrete, they do not damage steel rebar. As a natural result of the high-pressure water, rust and scale is removed, leaving the steel clean and intact, even directly underneath. The method virtually eliminates "shadowing" as well.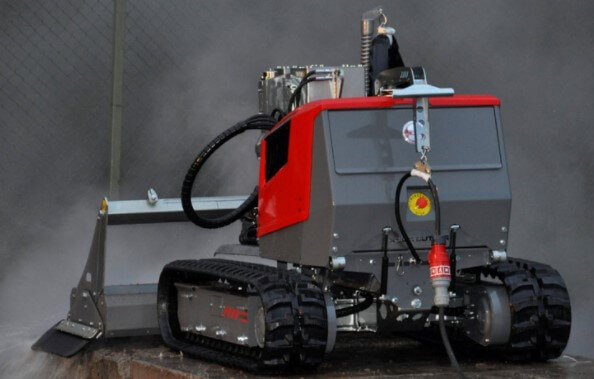 This combination of benefits results in repairs that last up to three times longer. The Swedish cement and concrete research institute (CBI) determined a repair life expectancy of 21 to 35 years with Hydrodemolition robots compared to 7 to 12 years using mechanical chiselling.
Increased productivity – A Hydrodemolition robot's high-pressure water jet removes concrete by widening existing pores and micro cracks in the weakened structure. This process is more efficient than mechanical methods, allowing the user to complete jobs more quickly — and up to 25 times faster than with hand lances.
Less labour and more safety – Hydrodemolition robots allow operators to monitor their work at a safe distance from hazards such as ledges common in bridgework, flying debris and harmful silica dust. In addition, by eliminating the need to stand near a ledge, contractors save time otherwise spent setting up autumn abatement systems.
Less interference – Finally, Hydrodemolition offers a quieter solution for urban environments.
Hydrodemolition robots generally produce less noise than a handheld pneumatic tool and the sound is limited by the machine's bonnet. The quieter operation allows contractors to work in residential areas or avoid engaged travel times by working during hours when noise levels are restricted.
Aqua Cutter works with the Metco Industrial Jetstream Pump
The Aqua Cutter is connected to a high-pressure unit – a Metco Industrial Jetstream pump. They work in conjunction as a one package solution with all you need for your hydro demolition in one place. Inside the Metco Industrial Jetstream pump, the water passes through filters, stabilizer tank, booster pump and high-pressure pump.
With the help from a powerful diesel engine and state of the art engineering, you'll achieve the desired pressure and flow.
The water then exits the Metco Industrial Jetstream Pump and travels through the high-pressure hose to the Aquajet robot where it leaves the nozzle at speed. And this is where the action begins.
TRHC – Metco Industrial has teamed up exclusively with Aquajet as the leading provider on Hydro demolition products and solutions across Australia.
"The perfect marriage of Aquajet's hydro-demolition/remediation robot and the TRHC-Metco Industrial Jetstream high pressure pump, opens up this cutting-edge, precision demolition/remediation solution to a much wider customer base right across Australia" said Norman Rhodes, General Manager TRHC
To find out more, contact Metco at www.metco.com.au